Helping physicians to avoid risk, taxes and unnecessary litigation or asset loss.
Overcoming the strenuous demands of medical school and developing a successful practice takes commitment and perseverance. We understand the work involved in building up your assets and the need to safeguard all that you have achieved in the years to come.
The wealth preservation attorneys of Gassman, Crotty & Denicolo, P.A. have more than 50 years of combined legal experience in protecting physicians.
We have concentrated on representing physicians and other medical professionals since 1987, and our estate planning focus often includes creditor protection planning for high risk professionals, which is almost always well before problems with potential creditors or plaintiffs may occur. Our book entitled Creditor Protection for Florida Physicians: A Comprehensive Guide for Physicians and Their Advisors has received many accolades from physicians and legal and tax professionals who wish to learn about what techniques and strategies might work best for a given situation.
In addition to our estate and wealth preservation planning practice we represent many medical practices and related business entities. Although Mr Gassman has co-authored a number of books in the medical law area, we almost always confer with Board Certified Healthcare Lawyers and medical experts on client matter to make sure that we have the latest and most thorough resources available without having any client pay for our education in this area.
We often negotiate medical related employment and buy in agreements, hospital recruitment agreements, buying and selling medical practices, medical leases and other health care related business law transactions, and take pride in our relationships with other lawyers who specialize in the areas where our medical clients need expertise and guidance.
Mr Gassman's medical books for physicians and professional advisors can be seen on Amazon by clicking here.
The Practice Areas of Gassman, Crotty & Denicolo, P.A.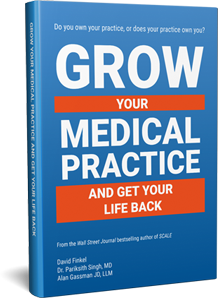 Do You Own Your Practice, or Does Your Practice Own You?
If you've ever dreamed of growing your practice, but were afraid the lifestyle costs to your time and family would be too high, then this book will transform how you approach running your medical practice.
David Finkel  |  Dr. Pariksith Singh, MD  |  Alan Gassman, JD, LLM